Rapid PCR | STI testing for hospitals and clinics
Having trouble getting rapid PCR STI tests processed? We can help.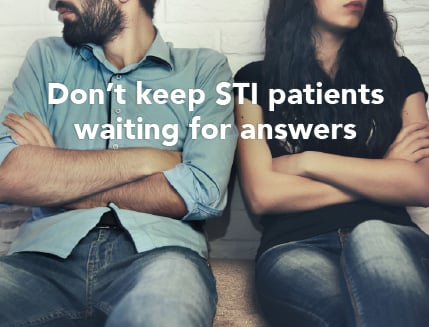 The availability of rapid PCR testing for CT/NG/TV/MG has been greatly impacted by the need for COVID-19 testing, causing supply shortages and delays in STI test results. MicroGenDX has a solution.
With over a decade of experience in designing, validating, and processing highly accurate molecular diagnostic tests, MicroGenDX is in a unique position to offer rapid PCR STI testing to hospitals and healthcare providers. MicroGenDX laboratory developed tests (LDTs) exceed regulatory standards and are not subject to the supply shortages and delays experienced with some testing.
MicroGenDX offers the following rapid PCR tests with results in 24 - 48 hours from receipt of sample at our lab:
STI Basic Panel covers both Chlamydia trachomatis and Neisseria gonorrhoeae.
STI Full Panel expands the STI Basic panel to include Trichomonas vaginalis and Mycoplasma genitalium.
We're here to assist you now during these challenging times, and we will be here for you in the future.
How to send specimens
Acceptable specimen types include urine, vaginal swabs, and semen. Detailed instructions included in kit.
Urine should be collected in a specimen cup and transferred into an 8mL vial with a rubber stopper. Only the 8mL vial should be sent — the cup can be disposed of.
Semen can remain in the specimen cup, or be swabbed in small amounts.
After specimen collection, vaginal swabs can be placed back into the sheath and sent dry overnight for processing, or they can be placed in Universal Transport Media (UTM) for transport of chlamydia, mycoplasma, and ureaplasma. The Cepheid transport media for CT/NG includes UTM, which is compatible with MicroGenDX CT/NG and STI panels.