MicroGenDX Leads Industry in Published NGS Research
MicroGenDX leads the molecular diagnostics industry in the number of published clinical studies supporting the clinical efficacy of Next-Generation Sequencing diagnostics. To date there have been over 70 published studies across multiple medical specialties utilizing MicroGenDX NGS, with some 40 additional studies currently underway. No other molecular laboratory in the U.S. has achieved the same depth and breadth of clinical studies supporting the diagnostic effectiveness of their technology.
All
ENT
Orthopedic
Plastic Surgery
Podiatry
Urology
Wound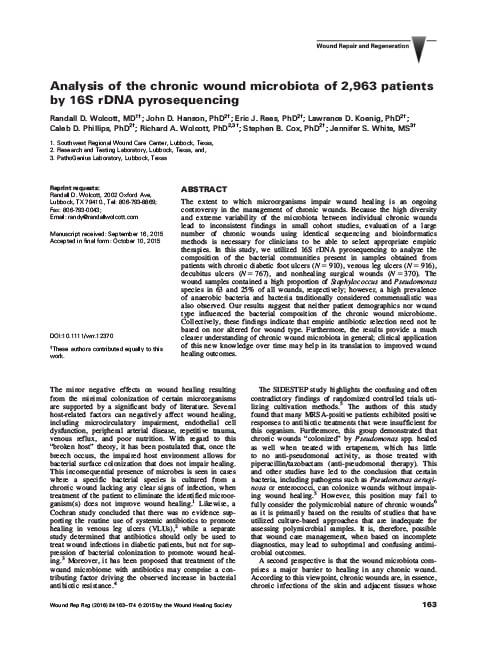 Analysis of the chronic wound microbiota of 2,963 patients by 16S rDNA pyrosequencing.
Wound Repair Regen. 2016 Jan-Feb;24(1):163-174.
Research: The study utilized 16S rDNA pyrosequencing to analyze the composition of the bacterial communities present in samples obtained from patients with chronic diabetic foot ulcers (N = 910), venous leg ulcers (N = 916), decubitus ulcers (N = 767), and nonhealing surgical wounds (N = 370). All wound types examined in the study exhibited similar levels of microbial diversity and abundance at a genus level. Neither patient demographics nor wound type influenced the bacterial composition of the chronic wound microbiome. Staphylococcus and Pseudomonas were the two most frequent bacterial genera identified, however significant variability was observed in their abundance. Staphylococcus was the most frequent bacterial genus present in the polymicrobial communities of the chronic wound samples tested; of these, 40% were methicillin‐resistant. Pseudomonas spp. were present in 25% of all wound samples analyzed. Strict anaerobes comprised four of the top 10 genera detected in the chronic wound samples. Read Research