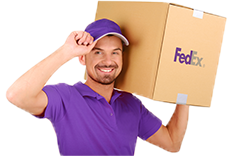 Enter your details below to schedule a FedEx pickup.
If you prefer, you may also call for pick up at: 1-800-GoFedEx (1-800-463-3339) say "agent" twice to speak to an agent. Let them know it's a prepaid pick up.
For use in the United States only.
Please Remember:
We work hard to be as green as possible. Please remember to place multiple sample bags into the shipping box. Thanks!