Consensus Guidelines Recommend DNA Diagnostic Testing During Phase I of Chronic Wound Management
DNA diagnostics recommended in first 1-4 days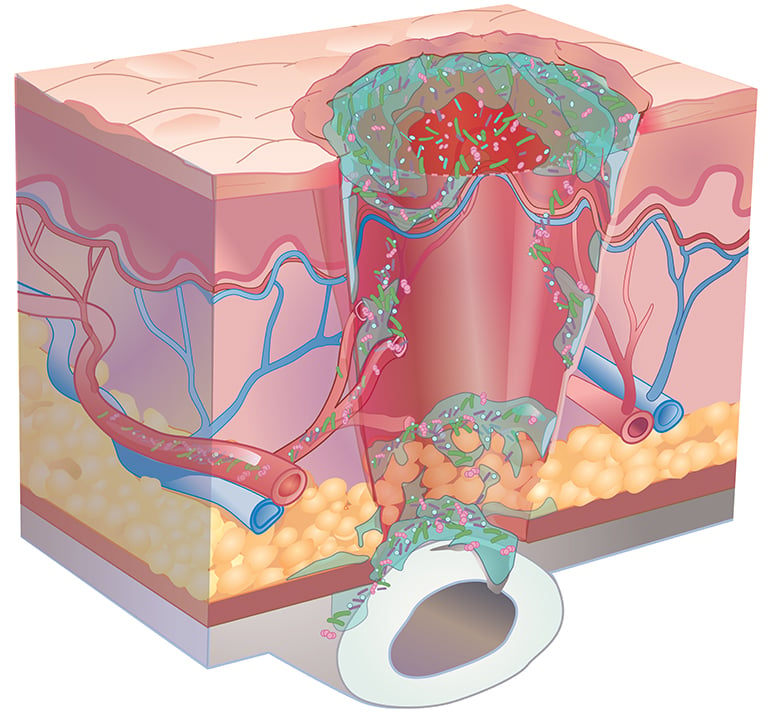 Consensus guidelines from a Global Wound Biofilm Expert Panel include the use of DNA diagnostics in the first 1-4 days of chronic wound therapy as part of early intervention. When all other healing measures are taken into account, there is strong evidence linking bacterial proliferation to chronic non-healing wounds. A sustained presence of proinflammatory agents degrades the extracellular matrix, inhibits cell migration, and prevents wound healing.
State-of-the-art qPCR + next-gen sequencing (NGS) increases precise species identification more than 20-fold when compared to culture. qPCR+NGS also provides an estimated percentage of the organisms present in the specimen. This specificity of organism identification and estimated quantification empowers the clinician to treat a patient with absolute confidence.
Published research shows accelerated healing with MicroGenDX
Standard of Care Group
Group 1
Group 2
Traditional Culture
with Systemic Antibiotics
Molecular Diagnostics with Systemic Antibiotics
Molecular Diagnostics with Customized
Topical Antibiotics
48.5%
patients healed
62.4%
patients healed
90.4%
patients healed
A more comprehensive microbial view affords the greatest potential of diminishing polymicrobial communities within this window. Based on a 1300+ patient study, the use of molecular-guided therapeutic choices resulted in substantial clinical improvements to both healing rates and healing days as compared to culture-guided choices.
MicroGenDX qPCR+NGS is superior to culture and PCR-only for diagnosing wound infections
Standard Culture
PCR Only
MicroGenDX qPCR+NGS



50% chance of "no growth" results


Underestimates anaerobic bacteria, fungi, VNBC, biofilms


Only 15%-30% accuracy finding dominant species





Detects only limited number of microbes associated with wound bed, reflecting culture bias





Detects all bacteria and fungus present in sample — without bias — matching them to a database of 50,000+ species


99.2% accuracy, listing species by relative abundance





Susceptibility represents a single bacterium's in vitro resistance — not enhanced resistance of in vivo biocommunity





Up to 17 antimicrobial resistance genes detected represent the in vivo resistance potential of entire biocommunities





Constrained by transportation protocols, growth media, culture preparation, and growth conditions


Highly variable turnaround for different bacteria and up to four weeks for fungi





24-48 hours turnaround time, minimally affected by transport time or temperature





Comprehensive results with sufficient DNA, and minimally affected by transport time or temperature


Rapid return of most comprehensive results — qPCR in 24-48 hours, and NGS in 3.5 days for all species in the sample





Costly for polymicrobial, anaerobic, or fungal isolations





Same low cost per patient/incident, regardless of the number of microbes detected


MicroGenDX qPCR+NGS also has superior diagnostic capabilities for nail infections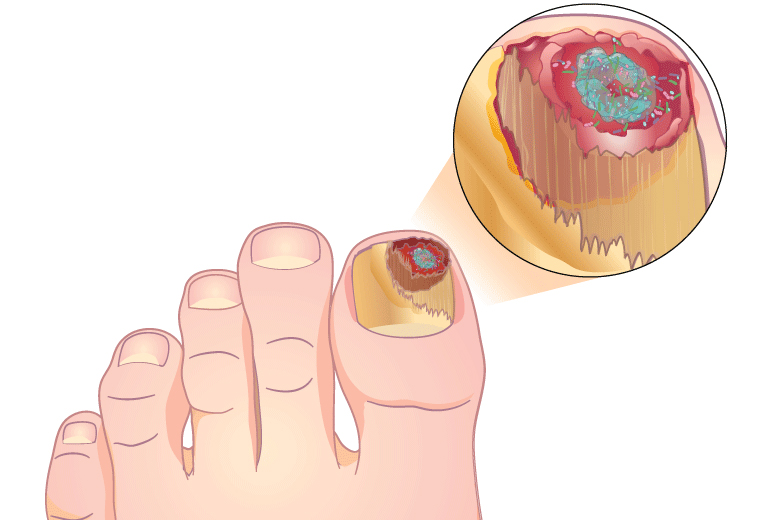 Combining qPCR and NGS offers greater speed and sensitivity, and more reliable speciation, than PAS/GMS or culture.
"As clinicians we can all generally agree that in order to provide the best treatment, we need to understand the organism that we're dealing with. With MicroGenDX DNA sequencing, we can do this for nail pathogens and create a targeted DNA therapy that is specific to the nail." — Beth Pearce, DPM
NGS
qPCR
PAS/GMS
Culture



3.5 days


>90% sensitivity


Genus/species identification with curated database of 50K+ microbes





24-48 hours


>90% sensitivity


No genus/species identification beyond limited panel





1–3 days


~80% sensitivity


No genus/species identification





4–6 weeks


<60% sensitivity


Limited genus/species identification


References
van Asten S A V, La Fontaine J, et al. The microbiome of diabetic foot osteomyelitis, European Journal of Clinical Microbiology & Infectious Diseases. 2016; 35):293-298. doi: 10.1007/s10096-015-2544-1
Joyce A, Gupta A, et al. Fungal Diversity and Onychomycosis – An Analysis of 8,816 Toenail, Journal of the American Podiatric Medical Association. 2019 Jan;109(1):57-63. doi: 10.7547/17-070
Chadwick P. Fungal infection of the diabetic foot: The often ignored complication. The Diabetic Foot Journal 16: 102–7, 2013
Dowd S E et al Molecular Diagnostics and personalized medicine in wound care: assessment of outcomes. Journal of Wound Care. 2011; 20: 5, 232-239
2009-2020 College of American Pathologists proficiency data
Show References