Improve pulmonary infection diagnosis and management with DNA diagnostics from MicroGenDX
Culture-based antibiotics not working for your patients? Switch to molecular.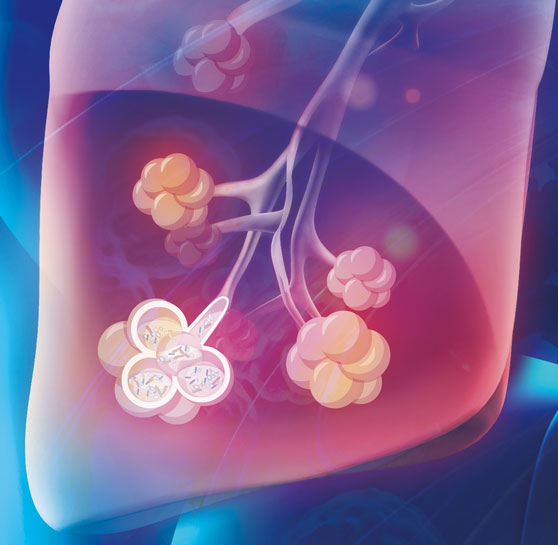 MicroGenDX DNA diagnostics are faster than culture, have higher sensitivity, are not affected by transport temperature or time, have a 12-year CAP-verified accuracy of 99.2% — and your patients can take the test kit home to collect and submit a sputum sample directly to the MicroGenDX lab. If your patients have already received recent antibiotic treatment, then additional culture tests will not work. MicroGenDX qPCR+NGS results are not impacted by antibiotic use. Also included with every test are detection of 17 antimicrobial resistance genes and antimicrobials for consideration based on the Sanford and Johns Hopkins Guides.
For bronchiectasis, COPD, NTM infections, chronic bronchitis, cystic fibrosis, and HAP/VAP, MicroGenDX qPCR + Next-Gen DNA Sequencing (NGS) also identifies mycobacteria, anaerobes, and fungi that culture does not. MicroGenDX test results available in just 3.5 days, and antimicrobial resistance genes in just 24-48 hours.
MicroGenDX tests also utilize an AMA-approved, Medicare-accepted PLA code that results in a much lower cost to insurance and patients than competing labs. And although take-home collection kits allow patients convenience in sputum collection, BAL and swab samples are also accepted.
Clinical research demonstrates that MicroGenDX qPCR+NGS offers a more comprehensive view of infective organism interrelationships and identifies mycobacteria and fungi more quickly (3.5 days) than techniques relying on routine culture. Additional examples of qPCR+NGS advantages supported by research include:
Rapid and reliable identification of mycobacteria, polymicrobial, and anaerobic organisms involved in aspiration pneumonia
Facilitation of personalized diagnosis and therapy for patients with chronic lung diseases and/or infections that improves patient outcomes
Molecular studies suggest that microbiota profiles of CF patients were patient-specific and remained stable over time. Read study
Better diagnosis and outcomes for pneumonia patients
How MicroGenDX compares to the competition
National Jewish Health
MicroGenDX
Take-home testing kit
–
√
NGS sequencing platform
Illumina MiSeq
Illumina MiSeq
NGS turnaround time
>15 days
3.5 days
Bacteria
√
√
Mycobacteria
√
√
Fungi
–
√
Resistance genes
Macrolide
√
√
Aminoglycoside
√
√
Methicillin
–
√
Vancomycin
–
√
ESBL
–
√
Carbapenemase
–
√
Tetracycline
–
√
Beta-Lactam
–
√
Bactrim
–
√
Fluoroquinolones
–
√
References
Mahboubi MA, Carmody LA, Foster BK, et al. 2016. Culture-based and culture-independent bacteriologic analysis of cystic fibrosis respiratory specimens. J Clin Microbiol 54:613– 619. doi:10.1128/JCM.02299-15.
Yun Z, Du J, Jin W, et al. Next generation sequencing for diagnosis of severe pneumonia: China, 2010-2018. J Infect. 2019 Feb;78(2):158-169. doi: 10.1016/j.jinf.2018.09.004

Jain S, Self WH, Wunderink RG, Fakhran S, et al; CDC EPIC Study Team. Community-Acquired Pneumonia Requiring Hospitalization among U.S. Adults. N Engl J Med. 2015 Jul 30;373(5):415-27. doi: 10.1056/NEJMoa1500245.

Albaum M, Hill L, et al. Interobserver reliability of the chest radiograph in community-acquired pneumonia. Chest. 1996;110:343-350.

Zhang K, Yu C, Li Y, Wang Y. Next-generation sequencing technology for detecting pulmonary fungal infection in bronchoalveolar lavage fluid of a patient with dermatomyositis: a case report and literature review. BMC Infect Dis. 2020 Aug 17. doi: 10.1186/s12879-020-05341-8
Show References