Patient with urinary tract infection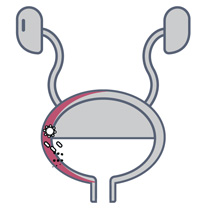 An 82-year-old woman with a history of recurrent UTI, and who had been treated for E. coli, presented to the clinic with an acute episode.
A mid-stream urine sample was obtained and sent for standard urinalysis, C&S, PCR by Volente Laboratories and MD Labs, and NGS by MicroGenDX.
There was a high concordance between C&S and PCR-based techniques to detect a high load of E. coli (>105 per ml). All testing identified E. coli, but NGS was the only lab that detected the dominant pathogen as Bacteroides fragilis (50%).  Based on the anaerobic B. frag and quinolone-resistant genes detected by NGS, the patient was switched to a targeted antimicrobial therapy using clindamycin for a total of 14 days. By the fifth day, the patient's symptoms subsided, and upon follow-up on day 14, she had no symptoms. View study
Patient with prostate infection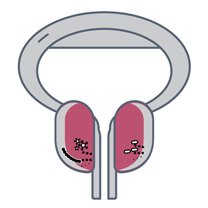 A 44-year-old police instructor was placed on disability with chronic pelvic pain, and missed work for two years. A urine sample revealed E. coli, and after one month of antibiotics his symptoms seemed to resolve. Then he relapsed. His cultures were negative, and CT, scope, and MRI were normal. Consulting five urologists, none could help — he was referred to physical therapy, which made symptoms worse. MicroGenDX reported urine was negative, but semen showed Enterococcus resistant to all oral antibiotics. The patient was given Amikacin IM at 2, 4, 6, and 7 days, and his symptoms resolved.
Patient with penile implant infection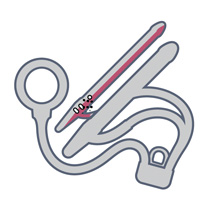 qPCR+NGS has proven beneficial in analyzing biofilm composition, antimicrobial sensitivities, and the relative abundance of microbes in IPP infections — with accuracies superior to traditional culture. In 101 patients, DNA sequencing produced more isolates (an average of 9) than culture, with many having sensitivities/resistances to 34 unique antimicrobial agents. In addition, qPCR+NGS has also demonstrated positive microbiomes in native IPP patients, at surgical locations that were previously thought to be sterile. MicroGenDX qPCR+NGS has provided a more comprehensive picture of IPP microbiota to better inform therapeutic choices.
References
Henry G, Stanton W, Diaz N, et al. Next-Generation Sequencing of DNA Appears to Identify Biofilm and Antimicrobial Sensitivities/Resistances on Penile Prostheses Better than Traditional Culture Methods In-Vivo: The New Gold Standard? The Journal of Urology. 2020; 203:4S E875-E876.
Henry G, Stanton W, Diaz N et al. Microbiome of the Primary Penile Implant: A Comparison Pilot Study with Worrisome Results at the Pump Space; pilot study presented at 2019 SMSNA
Dixon M, Stefil M, McDonald M, et al. Metagenomics in diagnosis and improved targeted treatment of UTI.  World J Urol . 2020 Jan;38(1):35-43. doi: 10.1007/s00345-019-02731-9
Show References