COVID-19 Variant ID | For Health Departments & Hospitals
MicroGenDX whole genome sequencing identifies known SARS-CoV-2 variants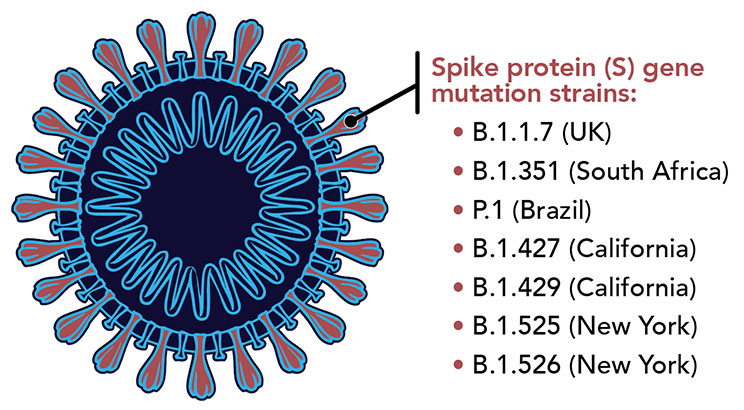 MicroGenDX, the industry leader in providing Next Generation DNA Sequencing (NGS) for clinical diagnostics, now offers whole genome sequencing for identifying known variants of SARS-CoV-2 described by the CDC as epidemiologically significant. Currently, identified variants do not require different therapeutic or infectious prevention approaches. But with the emergence of new variants, whole genome testing and research of SARS-CoV-2 may assist with discovering and describing new management approaches. Researchers have already concluded that variants carrying the E484K mutation may escape immune response in some vaccinated individuals.
Impact on health departments
New variants continue to emerge rapidly around the globe, causing sequencing efforts at health departments and universities to surveil a small portion of the population, and in some cases limit their sequencing efforts to breakthrough cases. MicroGenDX is proud to offer the first commercially available, quick turnaround, economical, and accurate option for SARS-CoV-2 whole genome sequencing—to combat the spread of emerging variants and gain a better understanding of the epidemiology of SARS-CoV-2.
Contact customer service or call 855-208-0019 to get started or for more information.
COVID-19 Variant ID FAQ
1What samples are acceptable for the COVID-19 Variant ID test?
Nasopharyngeal swabs, nasal swabs, oropharyngeal swabs, sputum, and saliva are the preferred sample types. Viral RNA is acceptable if a minimum of 50 µL is shipped to the laboratory on dry ice.
2Does this test require submission of samples that have previously tested positive for COVID-19?
No. The laboratory will screen all samples submitted for COVID-19 Variant ID using an rRT-PCR assay that targets the nucleocapsid gene. Samples that are positive and have a cycle threshold (Ct) value less than or equal to 30.00 can be sequenced. A Ct value of 30 cycles is equivalent to 5,080 genome equivalents (GE)/mL in swab samples, 4,548 GE/mL in sputum samples, and 7,272 GE/mL in saliva samples. Concentrations in RNA are equivalent to the original specimen type.
3How long will it take to receive test results?
If a sample is submitted that does not pass the initial rRT-PCR screen you will receive a report in 24 hours indicating that the sample is not adequate for sequencing. If the sample passes the initial screen, you will receive a report including the sequencing depth, coverage, and Pangolin lineage (i.e. B.1.1.7) in 5-6 business days.
4How are mutations in the sequence determined?
The genome is amplified using a genome-wide tiling assay that has been optimized and validated in-house. All resulting sequences are aligned and compared to the Wuhan-1 reference sequence to determine mutations and lineage.
5Will test results include a nucleotide sequence for submitted samples?
The nucleotide sequence is not provided with the report. De-identified sequencing data can be deposited to a public repository for review by epidemiologists and researchers upon request.
Please note: This assay is intended to be used as an epidemiological tool and is not intended for diagnosis or for guiding therapeutic management.
References
Xie X, Liu Y, Liu J, et al. Neutralization of SARS-CoV-2 spike 69/70 deletion, E484K and N501Y variants by BNT162b2 vaccine-elicited sera. Nature Medicine. 2021 Feb 8. doi: 10.1038/s41591-021-01270-4
Show References