MicroGenDX Next Generation Sequencing (NGS) reports are the fastest and least expensive available today, providing clinicians with easy access to the most advanced microbial analysis technology
Nearly 80,000 doctors and medical professionals depend on next generation sequencing by the MicroGenDX laboratory to identify and treat chronic bacterial and fungal infections in patients, analyzing precise data that impacts the speed and efficacy of treatments.
MicroGenDX's NGS is a form of molecular diagnostics that extracts DNA from a sample to look for the presence of more than 50,000 species of bacteria and fungi in its database, ensuring representation of viruses and parasites that can be infective. It provides a level of microbial detail in lab reports that helps physicians determine specific, targeted treatments, leading to better and faster healing for your patients.
Also known as massively parallel sequencing, next generation sequencing can amplify the results from a sample thanks to its processing of multiple DNA sequences in parallel, focusing on targeted regions. MicroGenDX's results are returned in three to five days and include side-by-side analysis with rapid targeted technology — a polymerase chain reaction (PCR) panel that amplifies DNA segments. The two reports coupled together deliver added precision and discovery power.
Physicians who most commonly seek this analysis are treating patients with chronic infections across a wide range of medical specialties, including but not limited to urology, orthopedics, ENT, infectious disease, podiatry, dentistry, primary care and microbiology. Patients can also request the test from their physicians or directly from MicroGenDX with a qualified physician signature.

Why MicroGenDX NGS?
NGS technology has been available to doctors since the early 2000s. An evolution of the original DNA sequencing method called Sanger sequencing, developed in the 1970s, NGS methods significantly reduced sequencing time and costs. MicroGenDX NGS also has the capability to simultaneously sequence much larger pieces of DNA.
Samples sent  to the MicroGenDX lab — such as a swab from the nose or wound, or a urine sample — scientists take the microorganisms out, break them down into their DNA and then sequence that DNA in the machine to identify each microorganism.
MicroGenDX's NGS technology delivers:
Superior specificity of 99.9% microbes within an infection site
Fast results in 3-5 business days
Identification of bacteria and fungi using NGS
Simultaneous qPCR panel additionally identifies viruses, parasites, and antibiotic resistance genes
Detection of bacteria in the presence of antibiotics
Increased sensitivity and specificity
Simplicity of sample collection
Superior to Culture Technology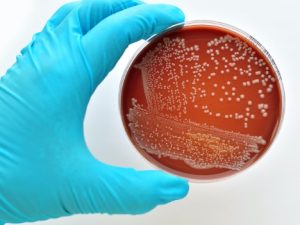 Culture testing places samples in petri dishes to stimulate cell growth. There are inherent issues with this type of testing because what grows in microbial culture might not be the dominant organism in the sample, and some microbes don't grow at all.
MicroGenDX begins its analysis with PCR technology in which scientists have designed tests that will identify specific organisms based on their DNA sequences. The data gets read and it's confirmed if and how much of the specific bacteria is in the sample. Then, MicroGenDX finishes its analysis with NGS to identify everything in the sample for complete microbial data.
With MicroGenDX NGS, physicians can expect:
Comprehensive next-generation sequencing results in an average of 3.5 days
A clear representation of the relative abundance of microbes in each sample
The most refined and targeted treatment options to resolve chronic infections more quickly
A 2019 study published in The Journal of Urology comparing chronic urinary tract infection (UTI) diagnoses in culture testing vs. NGS concluded that NGS provides more accurate data for determining the etiology of UTIs: "NGS sequencing is superior to C&S (culture and sensitivity) in terms of pathogen detection being a highly sensitive tool to detect a few pathogens in every urine sample."
When compared, the NGS results were 97% accurate compared to culture and sensitivity's 46% accuracy, with NGS revealing a greater presence of polymicrobial pathogens.
The Journal of Wound Care also reported via a study about chronic wound healing rates that the advantages of molecular diagnostics compared to bacteria cultures yielded very rapid, specific, sensitive, quantitative and comprehensive results, with little selection bias: "There exists the possibility that chronic wounds are chronic polymicrobial infections; we must be able to fully diagnose these microbial communities that work together."
Results are the Fastest and Least Expensive in the Industry
While NGS technology has been widely available for more than a decade, many physicians falsely believe that it's too costly or the turnaround time is too long. In fact, some labs do take 10 or more days to produce expensive NGS reports.
For comparison, MicroGenDX's high accuracy NGS results take three to five days and are 75% less expensive than the majority of labs offering this technology.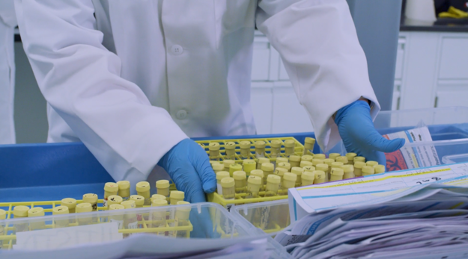 Level of Detail Leads to Improved Patient Outcomes
From statistically significant improvements of symptoms to more accurate diagnoses, NGS technology is dramatically improving patient outcomes across myriad medical specialties. The results are saving treatments and saving lives.
MicroGenDX offers support to clinicians who are new to the technology and assures the results are not as overwhelming as they might appear. The learning curve in reading the report is minimal, yet the complete microbial analysis is modernizing and improving patient care like never before.
Dr. Javad Parvizi, an orthopedic surgeon and Director of Clinical Research at the Rothman Institute in Philadelphia, was mystified by an infection in the knee of one of his patients after three separate cultures returned negative results. MicroGenDX's NGS identified the pathogen as streptococcus canis, something common in dogs for which Dr. Parvizi had never previously seen in a joint patient. He was able to switch the patient's antibiotics for a full recovery.
Matthew Regulski, a podiatric surgery specialist and medical director at the Wound Care Institute of Ocean County, NJ says "NGS is simply the best method available right now for clinicians to identify and treat the biofilm."
MicroGenDX's technology is revolutionizing clinician practices, providing new hope to patients suffering from challenging, and often mysterious, infections. By increasing the speed and precision for identifying mycobacteria, fungi, anaerobes and microbes embedded in biofilms, diagnosis and treatment becomes more precise and leads to better patient outcomes across a diverse range of medical specialties.